How to Apply
PhD in Pharmacology & Physiology
2023 Application is now Open!
We will begin information sessions for 2023 admissions in July 2022. RSVP for an invitation.
Application deadline is December 1st every year. For full consideration by our admissions committee, all materials must be received by December 1st. Applications missing required materials after December 1st will be reviewed at the discretion of the admissions committee.

Please note: This degree program does not lead to a PharmD and will not allow you to be a practicing pharmacist.
Admissions Timeline
August: PhD Application Opens
December 1st: PhD Application Deadline
January – March: PhD Interviews*
April: Final PhD Admissions Decisions
July 1st: PhD Program Starts
GU/NIH Partnership
The PhD in Pharmacology & Physiology at Georgetown participates in the NIH Graduate Partnership Program (GPP). Interested candidates should apply through the NIH.
If you wish to be considered for both the NIH partnership and as a regular applicant, you must submit one regular application through Georgetown and one GPP application through NIH.
Questions?
Eligibility information and thorough application instructions are provided in the sections below.
For all questions that aren't answered by the information below, please contact us.
* Applicants selected for interview living in the contiguous 48 US states will be flown to Washington DC for in-person interview; most travel expenses, including airfare and hotel, will be reimbursed by our department. Applicants selected for interview who live outside the contiguous 48 US states will be interviewed by Zoom.
---
Eligibility & Application Requirements
At a minimum, applicants should have a Bachelors degree in a science field (e.g. chemistry, biology, pharmacy, neuroscience, physiological psychology) and a GPA of 3.0 or higher (on a 4.0 scale). Our most competitive applicants will have GPAs 3.5 or higher.
[Prospective students with GPAs below 3.3 may want to consider our George Squared graduate certificate program in Advanced Biomedical Sciences (ABS) as a precursor to doctoral study. Students admitted to our PhD program after successfully completing the George Squared ABS program can be exempted from some of the first-year coursework; credits can also be transferred to our Masters in Pharmacology program.]
Research experience in the sciences is required, however direct research experience in pharmacology or physiology, while highly valued, is not required.
The PhD Program in Pharmacology & Physiology requires an online application to be submitted to the Biomedical Graduate Education through the Georgetown Graduate School of Arts and Sciences application portal that includes all of the materials on the application checklist. See below for important guidelines and instructions for these materials.
We expect all application materials to be submitted and received by the December 1st deadline, including all transcripts, letters of recommendation, TOEFL/IELTS score reports (when applicable) and WES or another NACES credential evaluation service is required (for all international degree transcripts).  International applicants are especially encouraged to start the application process early to allow plenty of time for transcript evaluation; these evaluations are required as part of the application.
Application Guidelines & Instructions
Academic Statement of Purpose
As a general guideline, the Academic Statement of Purpose should be at least one page but not to exceed two pages, single-spaced (please be succinct).
This statement is one of the most critical parts of your graduate school application. To dispel any mystery of what should be covered, or leave to chance that you'll miss key points, we outline below what is generally addressed in the statements of our most competitive applicants (in no particular order), followed by some general advice.
The factors (personal/professional) that motivate you to apply for a Ph.D. in Pharmacology & Physiology. Why a Ph.D.? Why this field?
Your academic preparation for this degree program (coursework at bachelors and/or graduate level). If there are any areas of your transcript that might be a cause for concern by the admissions committee, such as low grades in coursework relevant to the degree, be sure to address them clearly.
Your research background. What research have you done, either independently or as an assistant? What do you find attractive about research as a profession?
Your reasons for selecting our Department and Program (faculty research interests, for example).
Your long-term career goals (we know people have a range of goals, and that's OK!)
Any additional information that you would like the committee to consider as they review your application. We understand that many different factors (socioeconomic status, personal/familial challenges, racial/ethnic/cultural background, gender/gender identity, being the first in one's family to attend college and/or to pursue STEM graduate education, historical/structural/institutional obstacles, etc) impact the path to a PhD in the sciences. We strive to promote equity and inclusion in our department, recognizing the many ways that we can each enrich the academic and scholarly community through our unique backgrounds and circumstances.
General Advice:
When talking about faculty research areas, it is first advisable to look and see what they have published recently (e.g., do a PubMed search).
Make sure you can identify at least two or three faculty members with whom you would be interested in doing research. If you can't, a program (at Georgetown, or anywhere else) is likely not the right fit for you.
Proofread. This one sounds obvious, but we receive applications each year with grammatical errors, typographic errors, faculty names mis-spelled, etc. This comes across as unpolished and unprofessional. Be sure to have someone else (a fresh set of eyes) read your statement to check for errors. Remember, you are going to be doing research for 4-6 years in our labs – we want to know that you are careful and detail-oriented.
Resumé / CV
Full CV/resumé including all of the following at a minimum:
All work (paid and unpaid), research, volunteer, and intern experiences with dates (month and year) and responsibilities/descriptions clearly noted
For experiences involving research, please clearly note the name of the Principal Investigator of the lab.
All educational institutions where a degree was earned, including name, location, and GPA
All publications, abstracts, and presentations using a proper citation style. For items where the applicant is not the first name, please highlight applicant name in the citation using Bold.
All skills related to research (laboratory, technical, etc)
When applicable, items in each section of the resumé should be in reverse chronological order with the most recent experiences listed first, which is the most common way to organize a resumé.
Minimum acceptable font size is 11pt. If necessary, please allow your CV/resumé to span more than one page in order to include all requested details while maintaining font sizes and spacing that facilitate readability.
Letters of Recommendation
Three letters of recommendation are required. We strongly prefer that applicants waive their right to view the letters that are submitted for their application — please note this option in the application system when you are inputting your recommender information.
The strongest letters will come from those who have supervised you in a research or academic science context (ie, principal investigator, science professor, clinician).
The program requests that applicants forward the following instructions to letter writers:
Rate the applicant as: Exceptional, Outstanding, Very Good, Above Average, or Below Average.
Comment on the applicant's ranking compared to other students you have mentored. E.g., The student is in the top 5 students of the 50 students I mentored over the last 30 years.
Comment on the applicant's drive, creativity, independence, and resilience
Supplemental Document
Please upload Part 1 and Part 2 into the Supplemental Information section of the Online Application.
Part 1 – Essay answering the following prompt, maximum one page: Please tell us about an incident in your research where you experienced failure. Include what you did about it and what you learned from the experience. Note: This essay is separate from the Statement of Purpose.
Part 2 – A simple rank-ordered list of six faculty members in our department with whom you would be interested in doing research. The list should be ranked 1 through 6, with "1" being the faculty member with whom you are the most interested in doing research in our department.
Important note: Although the research areas covered by the participating faculty are broad, the most concentrated areas of research strength are in neuropharmacology and signal transduction. Because of our strong focus on neuropharmacology, applicants interested in clinical pharmacology or cancer pharmacology may wish to apply elsewhere. In particular, the Tumor Biology Program at Georgetown is very strong.
GRE Scores Not Accepted
We do not accept GRE scores for the application to the PhD in Pharmacology & Physiology. Please do not include GRE scores as part of your application, and please do not send official score reports.
If you have accidentally included GRE scores in your submitted application, please contact our admissions team at bgeadmissions@georgetown.edu to have your GRE information removed from your application, otherwise it will keep your application marked as incomplete.
Any GRE score remaining on an application at the deadline will be removed/redacted from the file circulated to our admissions committee.
Effective starting the 2017-2018 application cycle, we have decided to remove GREs from our PhD application process for Pharmacology & Physiology. A growing literature makes it abundantly clear that GREs are poor predictors of graduate student success (see: Hall et al. (new window) and Moneta-Koeler et al.). Moreover, GRE scores consistently disadvantage women and individuals from underrepresented groups in science. Thus, given the poor predictive value of the GRE, we feel it only serves as an access barrier to applications as significant time and money are required for the examination and subsequent score reporting.
Transcripts from US Institutions
Transcripts are required from every institution you have earned credits and grades, including both degree and non-degree coursework. This allows the admissions committee to have a more complete picture of your academic preparation for graduate study.
You must upload electronic or scanned copies of your transcripts (as detailed below) into the application portal for review by the admissions committee; do not order official transcripts to be sent directly to us from your institution(s) until you receive an official offer of admission.
An acceptable transcript upload is a copy of an official transcript produced by the institution. This includes:
Scanned copies of paper transcripts issued by the institution.
Electronic transcripts issued by the institution (not a download from your institution's web portal).
Transcript formats we do not accept include the following:
We do not accept screenshots or photos.
We do not accept downloads of the "student's view" from your institution's website.
Samples of Acceptable vs. Unacceptable Transcripts for Applications Submission: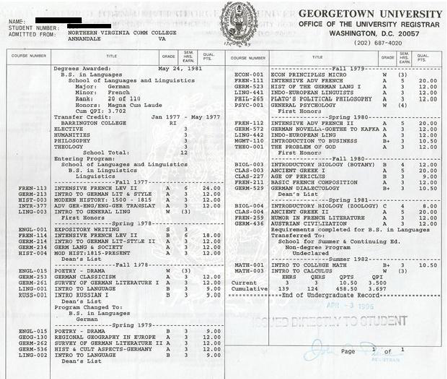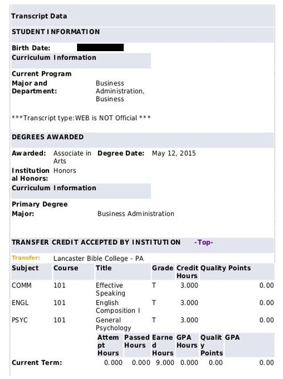 NOTE: Applicants who are offered admission will be required at that time to submit official transcripts for verification prior to enrolling.
For additional questions, please visit Admissions FAQ.
Transcripts from International Institutions
For degrees earned outside the U.S.: WES or another NACES credential evaluation service is required for international transcripts. For WES evaluation, please type in "Georgetown University" for the institution/company. For School/Division, select "Biomedical Graduate Education" as the recipient.
For study abroad program or non-degree coursework taken abroad (no degree earned or expected): These documents must be accompanied by an English language version provided by the academic institution. If your institution does not provide English language copies, applicants are responsible for providing a certified or notarized translation along with a copy of the original transcripts. Applicants may upload an evaluation from a credential evaluation service. This must include course and grade information. If not included in the evaluation, the transcript from the institution must be included as well. Both the evaluation and original transcript should be submitted in the application as one document.
For additional questions, please visit Admissions FAQ.
TOEFL/IELTS Examination
TOEFL: Georgetown University Code is 5244. The minimum TOEFL score for admission is 80 (Internet-based test) and 550 (paper test).
IELTS: Select "Georgetown University Graduate School of Arts and Sciences." The minimum IELTS score for admission is 7.0.
All applicants are required to demonstrate a level of proficiency in the English language sufficient to meet the admission requirement of the Graduate School of Arts and Sciences. Proficiency can be demonstrated by the receipt of a bachelor's or advanced degree from an accredited institution of higher education in the United States or from a university where English is the primary language of instruction. Please note that applicants receiving degrees at universities in U.S. territories, such as Puerto Rico, are required to submit the TOEFL or IELTS unless the primary language of instruction at the institution is English.
External Funding
Applicants with external (third-party) funding sources guaranteed for the entirety of their PhD program (ie, scholarships, sponsorships, or fellowships through governments, employers, or any organization) should include a copy of their award/sponsorship letter with their application. If the sponsorship is awarded after submitting your application, please send a PDF copy of the letter to the program (contact us) to be added to your application file.

Note: All students admitted to the PhD in Pharmacology are offered tuition scholarship, annual stipend of $35,500 and health insurance, unless they have guaranteed external funding as described above. There is no separate application for our internal funding from the university.