Alumni Outcomes
In a typical cohort we have a mix of students who are interested in pursing further education (mainly MD/DO and PhD programs) as well as those who intend to start working in, or move up in, roles in government agencies, biotech and pharmaceutical companies, or research labs. In particular, nearly half of our department's current PhD students are alumni of our MS programs.
Georgetown has a specialized career office specifically for students in Biomedical Graduate Education that provides advising for career exploration, networking, professional skills, PhD and medical school applications, and job hunting in biotech, lab and clinical research, pharmaceuticals, healthcare, and related industries.
---
---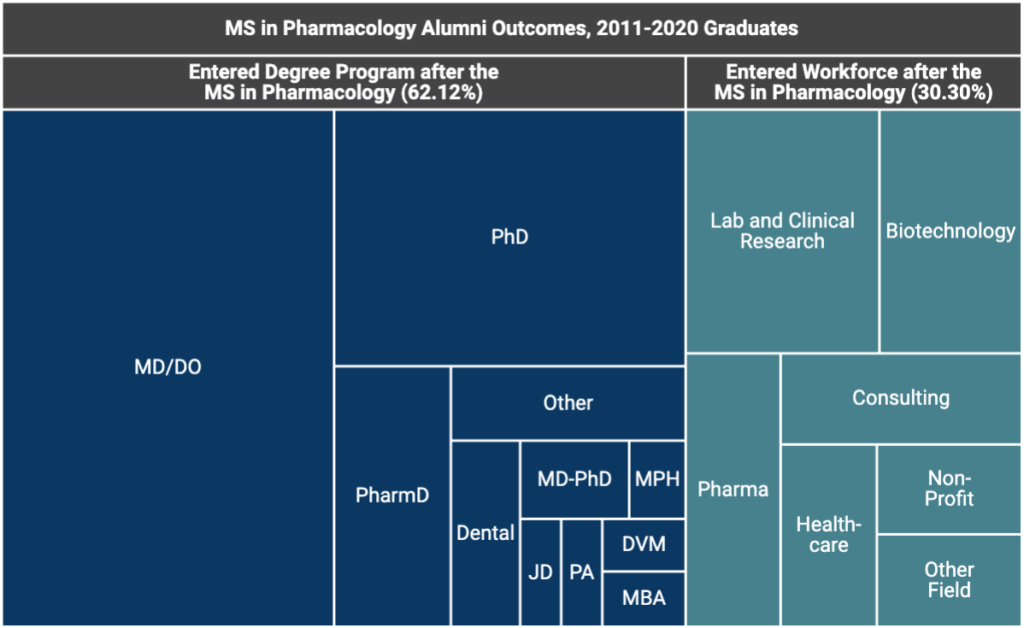 ---
Pursuing Further Education
The MS in Pharmacology degree provides a solid foundation for further education in many different fields and a significant "leg-up" on the pre-clinical coursework for those intending to enter medical or dental school. While most of our alumni choose to enter PhD programs and health professional schools, we have also had alumni choose to pursue law degrees and MBAs.
Of particular note, 44% of our current PhD students are alumni of our department's MS programs.
Some of our alumni choose to take an additional gap year after our program to gain additional clinical or research experience before applying to terminal degree programs. Accordingly, we've found that:
85% of our alumni who pursue further education are accepted into a program within 3 years of graduating
75% are accepted within 2 years
65% are accepted within 1 year (either during the program year or in the year immediately following graduation)