Alumni Outcomes
In a typical cohort we have a mix of students who are interested in pursing further education (mainly MD/DO and PhD programs) as well as those who intend to start working in, or move up in, roles in government agencies, biotech and pharmaceutical companies, or research labs. In particular, nearly half of our department's current PhD students are alumni of our MS programs.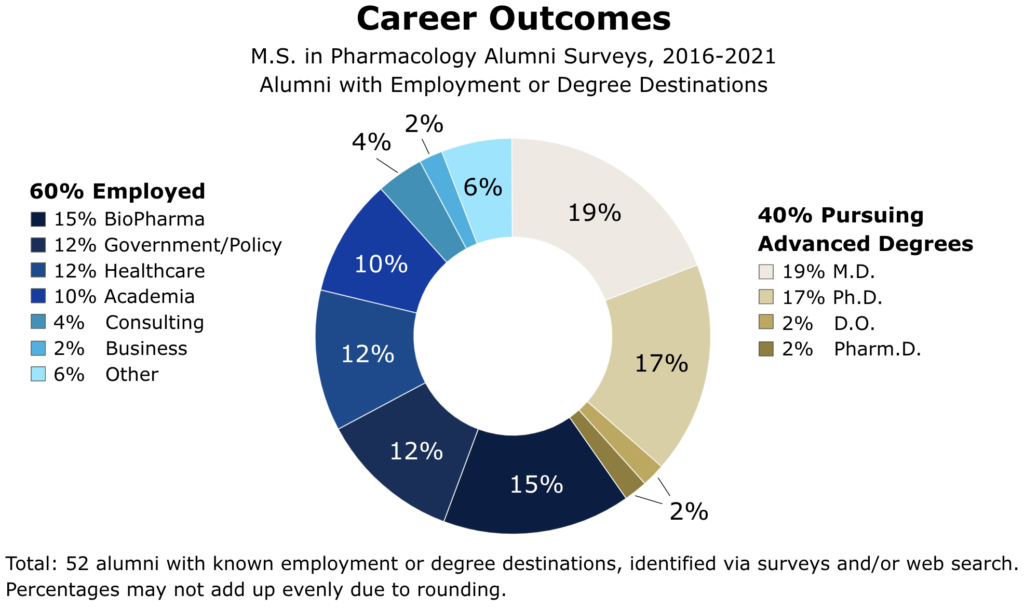 Georgetown has a specialized career office specifically for students in Biomedical Graduate Education that provides advising for career exploration, networking, professional skills, PhD and medical school applications, and job hunting in biotech, lab and clinical research, pharmaceuticals, healthcare, and related industries.
---
Career Paths for Pharmacologists
Students entering the workforce after earning their MS in Pharmacology, either to start a career or for a gap year before further education, pursue many different avenues in government, academic research, and a variety of pharmaceutical, biotechnology, and consulting companies. Positions range from research associates and lab managers, to clinical trial coordinators, patent examiners, regulatory analysts, and consultants for healthcare and biotechnology companies.
In particular, several of our alumni have become ORISE Fellows at the Food and Drug Administration and have participated in IRTA/CRTA at the NIH.
Governmental, Academic, and Non-Profit Organizations
Some examples of organizations where our alumni have worked:
American Chemical Society
Catholic University of America
Centers for Disease Control and Prevention
Columbia University
Department of Veterans Affairs
Florida Atlantic University
Food and Drug Administration
Frederick National Laboratory
George Washington University
Georgetown University
Johns Hopkins University School of Medicine
Living Legacy Foundation of Maryland
MD Anderson Cancer Center
Ministry of Health Saudi Arabia
MIT Koch Institute for Integrative Cancer Research
National Institutes of Health
Norfolk State University
Tufts University
United States Air Force
US Patent and Trademark Office
Walter Reed Army Institute of Research
Pharmaceutical, Biotechnology, and Consulting Companies
Some examples of companies where our alumni have worked:
Amgen
Arbor Scientia
AstraZeneca
Asuragen
Audubon Biosciences
Boehringer Ingelheim
Capital Biosciences
Champions Oncology
Corcept Therapeutics
Emergent BioSolutions
Engility Corporation
Farlinium
Gartner
Genentech
GENETWORx
IBM
Janssen
Kaiser Associates
Merck
Micro-Optics Precision Instruments
Millipore Sigma
Novartis
Novogene
Noxilizer
Parexel
REGENXBIO
Sanofi
SVB Leerink
Teladoc Health
Wedbush Securities
---
Pursuing Further Education
The MS in Pharmacology degree provides a solid foundation for further education in many different fields and a significant "leg-up" on the pre-clinical coursework for those intending to enter medical or dental school. While most of our alumni choose to enter PhD programs and health professional schools, we have also had alumni choose to pursue law degrees and MBAs.
Of particular note, 44% of our current PhD students are alumni of our department's MS programs.
Some of our alumni choose to take an additional gap year after our program to gain additional clinical or research experience before applying to terminal degree programs. Accordingly, we've found that:
85% of our alumni who pursue further education are accepted into a program within 3 years of graduating
75% are accepted within 2 years
65% are accepted within 1 year (either during the program year or in the year immediately following graduation)
PhD programs where our alums have been accepted
PhD, Molecular Medicine, George Washington University
PhD, Neuroscience, George Washington University
PhD, Pharmacology & Physiology, George Washington University
PhD, Pharmacology & Physiology, Georgetown University
(nearly half of our current PhD students are alumni of our MS programs)
PhD, Tumor Biology, Georgetown University
PhD, Biomedical Science, Icahn School of Medicine
PhD, Experimental Medicine, McGill University
PhD, Molecular Bioscience, Rutgers University
PhD, Biomedical Informatics, Rutgers University Newark
PhD, Pharmacology and Toxicology, University of California Davis
PhD, Biomedical Sciences, University of Connecticut
PhD, Pharmacology, University of Florida
PhD, Cellular Biology, University of Maryland
PhD, Pharmaceutical Sciences, University of Miami
PhD, Biomedical Sciences, University of Texas San Antonio
Medical and Dental programs where our alums have been accepted
Case Western Reserve University School of Medicine
Creighton University School of Medicine
Edward Via College of Osteopathic Medicine
Georgetown University School of Medicine
Howard University College of Medicine
Indiana University School of Medicine
Lake Erie College of Osteopathic Medicine
Lincoln Memorial University–DeBusk College of Osteopathic Medicine
Louisiana State University School of Medicine
Medical College of Georgia
Medical University of South Carolina
Northeast Ohio Medical University
Penn State College of Medicine
Philadelphia College of Osteopathic Medicine
Rosalind Franklin Chicago Medical School
St. George's University
Touro College of Osteopathic Medicine
Tufts University School of Medicine
Tulane University School of Medicine
University at Buffalo School of Dental Medicine
University of Aukland School of Medicine
University of British Columbia Faculty of Medicine
University of Colorado School of Medicine
University of Maryland School of Dentistry
University of Miami Miller School of Medicine
University of Tennessee Health Science Center College of Medicine
University of Toledo School of Medicine and Health Sciences
University of Utah School of Medicine
University of Wisconsin Madison School of Medicine
Virginia Commonwealth University School of Dentistry
Virginia Commonwealth University School of Medicine
Wright State Boonshoft School of Medicine
PharmD programs where our alums have been accepted
PharmD, Hampton University
PharmD, Howard University
PharmD, Massachusetts College of Pharmacy
PharmD, University of Colorado School of Pharmacy
PharmD, University of Southern California
PharmD, University of Tennessee
PharmD, University of the Pacific
Other programs where our alums have been accepted
DVM, Midwestern University of Arizona
DVM, Ohio State University College of Veterinary Medicine
JD, George Washington University
MBA, Georgetown University
MPH, Geoge Washington University
MPH, University of Alberta