The Theodore Koppanyi Lectureship in Pharmacology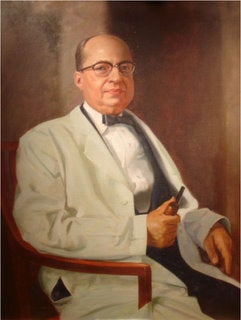 Dr. Theodore Koppanyi was the youngest graduate in its history when the University of Vienna granted him a Ph.D. in 1923, and he was still not thirty years old when he was appointed Chairman of Pharmacology at Georgetown in 1932. With the vigor of perpetual youth he was one of the pioneers who took the newborn science of pharmacology and showed the world that it was not only beautiful to study, but that it held enormous promise for aiding the sick and for probing and understanding physiology and cellular biology. During his career he participated in research that foreshadowed every branch of the modern discipline and he pioneered ideas and concepts that guide the field to this day. In addition, his writings reflect his keen interest in – and respect for – the scientific and historical roots of pharmacology.
Theodore Koppanyi was also one of the most effective and loved teachers at Georgetown. This lecture series was organized by his students and friends to honor him, and we in the Department of Pharmacology are, in turn, honored to be part of it.
Koppanyi Lectures began in 1981 and have included many world-renowned scientists and a number of Nobel Prize winners.
DISTINGUISHED LECTURERS
2019 Michael Rogawski, M.D., Ph.D.
2018 Joseph T. Coyle, M.D.
2017 Feng Zhang, Ph.D.
2015 Bryan Roth, Ph.D.
2014 Ed Boyden, Ph.D.
2013 Henry R. Lester, Ph.D.
2012 Michael Greenberg, Ph.D.
2010 Robert J. Lefkowitz, M.D.
2009 David Julius, Ph.D.
2008 Andrew R Marks, M.D.
2007 Donna M. Ferriero, M.D.
2006 Peter B. Corr, Ph.D.
2005 John W. Olney, Ph.D.
2004 Kay R. Jamison, Ph.D.
2003 Roger Markwald, Ph.D.
2002 Michael Lazdunski, Ph.D.
2001 Eric Olson, Ph.D.
1999 Raymond J. Dingledine, Ph.D.
1998 Lee E. Limbird, Ph.D.
1997 William A. Catterall, Ph.D.
1996 Gertrude B. Elion, D.Sc.
1995 Martin Rodbell, Ph.D.
1994 Ray W. Fuller, Ph.D.
1993 Frank G. Standaert, M.D.
1992 Jon M. Lindstrom, Ph.D.
1991 Michael Brownstein, M.D., Ph.D
1990 Ira H. Pastan, M.D.
1989 Elliot S. Vesell, M.D.
1988 Julius Axelrod, Ph.D.
1987 Robert F. Furchgott, Ph.D.
1986 Erminio Costa, M.D.
1985 Philip Needleman, Ph.D.
1984 Jay N. Cohn, M.D.
1983 Solomon H. Snyder, M.D.
1982 Arthur H. Hayes, Jr. M.D.
1981 Walter E. Riker, M.D.