How to Apply | MS in Pharmacology
Fall 2022 Applications
Deadline: July 1
Contact us with any questions about the program or admissions process.
The Pharmacology Master of Science Program requires an online application to be submitted to Biomedical Graduate Education through the Georgetown Graduate School of Arts & Sciences via the application portal.
Eligibility & Application Requirements
To be eligible for admission, applicants must complete their 4-year bachelor's degree before the start of the MS program and must have a 3.0 GPA or higher (on the standard U.S. 4.0 scale). Average matriculant GPA is 3.6; recommended GPA is 3.3 or higher (on the standard U.S. 4.0 scale) with strong performance in biology and chemistry. Biochemistry is recommended but not required.
Application Checklist
Online Application / Non-refundable Application Fee
4-year Bachelor's Degree
Grade point average of 3.0 or higher. Our most competitive applicants will have 3.3 and above; average matriculant GPA is 3.6
Academic Statement of Purpose
GRE/MCAT Score (recommended but not required; see instructions below)
TOEFL/IELTS Score (if applicable)
TOEFL Minimum Requirement: 90
IELTS Minimum Requirement: 7.0
Georgetown Univ. Code: 5244
WES evaluations (course-by-course) are required for any international degree transcripts. Please select "Biomedical Graduate Education" as recipient. WES evaluation must show a minimum 3.0 GPA on 4.0 scale for undergraduate degree
Application Deadline
Priority application deadline for Fall 2022 is May 15, 2022
Final deadline for Fall 2022 is July 1, 2022
Applications are reviewed on a rolling basis starting in November 2021. Early applications are strongly encouraged.
Only Fall admission is offered for the MS in Pharmacology.
Tuition & Fees
Tuition and fees information can be found on the Biomedical Graduate Education website.
Tuition & Fees
Merit-Based Scholarships
Merit-based tuition scholarships are available for students enrolling in our biomedical graduate programs.
Tuition Scholarship
Additional Information
Online Application
Religious Affiliation: In 2021, Georgetown has added a question on Religious Affiliation to the applications for all programs at the university. We DO NOT consider religious affiliation in our admissions decisions, and your selection will not advantage or disadvantage your application in any way. As such, applicants are very welcomed to select "Choose not to provide" for this question.
For program of study, please select:
"Pharmacology (MS)"
Transcripts from U.S. Institutions
Transcripts are required from every institution you have earned credits and grades, including both degree and non-degree coursework. This differs from the general Graduate School guidelines in the application portal, so please be sure to upload transcripts for all institutions attended, including:
— institutions where you earned fewer than 15 credits
— institutions where you earned any amount of credits, even if those courses and grades are reflected on the transcript of your bachelors degree.
This allows the admissions committee to have a more complete picture of your academic preparation for graduate study.
You must upload electronic or scanned copies of your transcripts (as detailed below) into the application portal for review by the admissions committee; do not order official transcripts to be sent directly to us from your institution(s) until you receive an official offer of admission.
An acceptable transcript upload is a copy of an official transcript produced by the institution. This includes:
Scanned copies of paper transcripts issued by the institution.
Electronic transcripts issued by the institution (not a download from your institution's web portal).
Transcript formats we do not accept include the following:
We do not accept screenshots or photos.
We do not accept downloads of the "student's view" from your institution's website.
Samples of Acceptable vs. Unacceptable Transcripts for Applications Submission:
Acceptable (below) —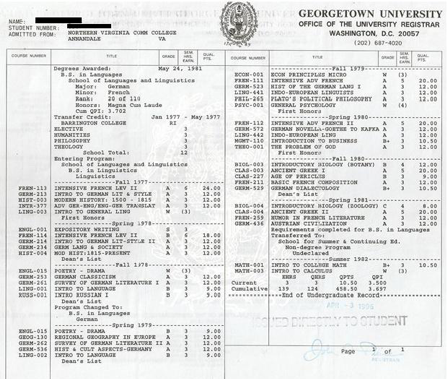 Unacceptable (below) —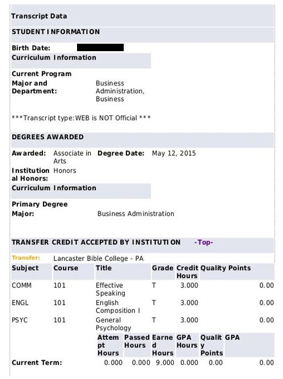 NOTE: Applicants who are offered admission will be required at that time to submit official transcripts for verification prior to enrolling.
For additional questions, please visit Admissions FAQ.
Transcripts from International Institutions
For degrees earned outside the U.S.: We require WES evaluations (course-by-course) at the time of application for all transcripts of degrees earned outside the U.S. Completed course-by-course evaluation must be received by our admissions office from WES by the application deadline.
For study abroad program or non-degree coursework taken abroad (no degree earned or expected): These documents must be accompanied by an English language version provided by the academic institution. If your institution does not provide English language copies, applicants are responsible for providing a certified or notarized translation along with a copy of the original transcripts. Applicants may upload an evaluation from a credential evaluation service. This must include course and grade information. If not included in the evaluation, the transcript from the institution must be included as well. Both the evaluation and original transcript should be submitted in the application as one document.
For additional questions, please visit Admissions FAQ.
GRE/MCAT Score
Recommended but not required. Applicants are welcome to submit by email their unofficial GRE or MCAT score report directly to the Program Coordinator; please do not enter your score or upload your score report in the application portal as this will trigger an official score report to be required. Please send a PDF printout of your unofficial GRE or MCAT score report from the exam website (showing date of exam, breakdown of score, and percentile rankings) to the program (contact us). These scores are not required for admission to the program but are recommended.
TOEFL/IELTS Examination
Georgetown University Code is 5244. The minimum TOEFL score for admission to M.S. in Pharmacology program is 90 (a score of 95 or above is preferred). The minimum IELTS score for admission is 7.0.
All applicants are required to demonstrate a level of proficiency in the English language sufficient to meet the admission requirement of the Graduate School of Arts and Sciences. Proficiency can be demonstrated by the receipt of a bachelor's or advanced degree from an accredited institution of higher education in the United States or from a university where English is the primary language of instruction (please note that applicants receiving degrees at universities in U.S. territories, such as Puerto Rico, are required to submit the TOEFL or IELTS unless the primary language of instruction at the institution is English).
Letters of Recommendation
Two Letters of recommendation are required with a preference for letters from science professors or those who have supervised your work in a lab/clinical setting.