The Frank G. Standaert Lectureship in Pharmacology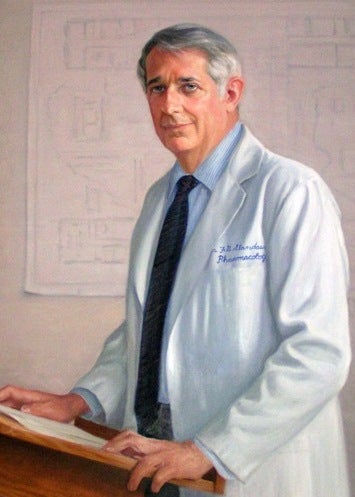 Dr. Frank Standaert assumed the chair in Pharmacology at Georgetown University Medical Center in 1967, at the age of 38, succeeding Dr. Theodore Koppanyi. Over the course of the next few years he recruited much of what is presently the senior faculty of the department.
At Georgetown University he served with distinction for 19 years as a researcher, beloved teacher and mentor. He was well-respected by his peers in and outside of Georgetown and served as president of the American Society for Pharmacology and Therapeutics, our professional society. In 1986, he assumed the position of EVP and Dean at the Medical College of Ohio in Toledo. Upon learning of his plans to leave Georgetown, the faculty commissioned a life-size portrait of him, which presently hangs in our library, where his memory is always with us. Frank Standaert made an indelible imprint on the pharmacology department, which endures to this day.
DISTINGUISHED LECTURERS
2016 RITA VALENTINO, PH.D.
2011 JOHN DANI, PH.D.
2010 EDSON ALBUQUERQUE, M.D.,PH.D.
2008 ROGER NICOLL, M.D.
2007 KAREL SVOBODA, PH.D.
2006 HUDA AKIL, PH.D.
2005 DAVID GOZAL, PH.D.
2004 MIRIAM MEISLER, PH.D.
2003 DAVID STANDAERT, M.D.,PH.D.