Kenneth L. Dretchen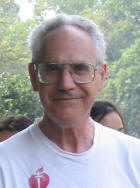 Professor and Chair
Department of Pharmacology & Physiology
Ph.D., Pharmacology
University of Iowa, 1972
(202) 687-7007
dretchek@georgetown.edu
The research in my laboratory has been directed towards three major areas. The first deals with chemical and biologic threat agents. I was a member of the team of experts that designed antidote kits carried by the United States Military for use in case of exposure to chemical weapons of mass destruction. These kits are also carried by First Responders and stored in the U.S. Strategic National Stockpile. Furthermore, our laboratory developed a series of probes based upon DNA analysis that will be used by the Department of Defense for the identification of anthrax and dengue fever. Currently we are developing probes that can be imbedded in a device attached to an iPhone for the identification of sexually transmitted diseases in third world countries.
The second area of research deals with the identification and quantification of renal excreted metabolites of the major antidepressant drugs such as Abilify. We are attempting to correlate the level of these metabolites with the orally administered dose. This is critically important since it will help the physician determine issues of drug compliance and under or over dosing patients.
The third area represents a long standing collaborative effrt with Dr. Richard Gillis to better understand the neural pathways in the brain the control the gastric activity of various parts of the stomach and small intestine.
Selected Publications:
Sahibzada N, Mangel AW, Tatge JE, Dretchen KL, Franz MR, Virmani R, Gillis RA: Rhythmic Aortic Contractions Induced by Electrical Stimulation In Vivo in the Rat. (new window) PLoS One, 10.1371 eCollection 2015
KL. Dretchen, R Millet, GL McIntyre, and HL Golub: Quantitative Levels of Aripiprazole and its Metabolites in Urine. (new window) Journal of Pharmacology and Clinical Toxicology, 1(2): 1014-1017, 2014
Richardson J, Cruz MT, Majumdar U, Lewin A, Kingsbury KA, Dezfuli G, Vicini S, Verbalis JG, Dretchen KL, Gillis RA, Sahibzada N: Melanocortin signaling in the brainstem influences vagal outflow to the stomach. (new window) J Neurosci. 2013 Aug 14;33(33):13286-99
Herman MA, Gillis RA, Vicini S, Dretchen KL, Sahibzada N: Tonic GABAA receptor conductance in medial subnucleus of the tractus solitarius neurons is inhibited by activation of μ-opioid receptors. (new window) J Neurophysiol. 2012 Feb;107(3):1022-31.
Herman MA, Alayan A, Sahibzada N, Bayer B, Verbalis J, Dretchen KL, Gillis RA : mu-Opioid receptor stimulation in the medial subnucleus of the tractus solitarius inhibits gastric tone and motility by reducing local GABA activity. (new window) Am J Physiol Gastrointest Liver Physiol. 2010 Aug;299(2):G494-506.
Mesa CM, Cors SJ, Dretchen K, Rasmussen SC, Sharples SB : Pharmacokinetic evidence supporting the addition of Midazolam to the therapy for nerve agent toxicity.. Chemical and Biological Warfare Agents. 10:143, 2010.
Weeks A, Leshin JA, Dretchen KL, Skowronski EW, O'Connell KP : Population-level variation of the preproricin gene contradicts expectation of neutral equilibrium for generalist plant defense toxins. (new window) Toxicon. 2010 Jul;55(8):1475-83
Leshin J, Danielsen M, Credle JJ, Weeks A, O'Connell KP, Dretchen K. : Characterization of ricin toxin family members from Ricinus communis. (new window) Toxicon. 2010 Feb-Mar;55(2-3):658-61